We The Forest: Hill City Mill Closure
Originally published March 11, 2022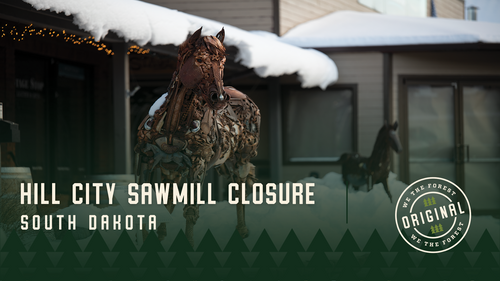 As the battle for forest restoration continues, the narrative of sawmill closures is regrettably a repetitive one — to the point where sawmills could almost be labeled as an endangered species.
When Rushmore Forest Products announced its closure in April 2021, it furloughed 100 employees in the process, and put the livelihood of the entire town in question. While it is difficult to narrow down the economic impact on those in a small community, it is important to note that manufacturing business like a mill turn over five to seven times within the region.
This painful announcement reflects the harsh reality many mills in the West are facing today: there's no longer enough timber available for purchase to keep regional sawmills running. 
Unfortunately, this is a scenario that will continue to occur around the US, as reduced forest management continues to negatively affect forest restoration. 
Watch this heart-wrenching, first-hand look at the employees and families behind the Hill City mill, and learn what this closure has meant for the entire community: